Op 29 maart 2021 is er in de Japanse krant Hokuriku Chunichi Shimbun een artikel verschenen over de expositie in het Tonami Art Museum.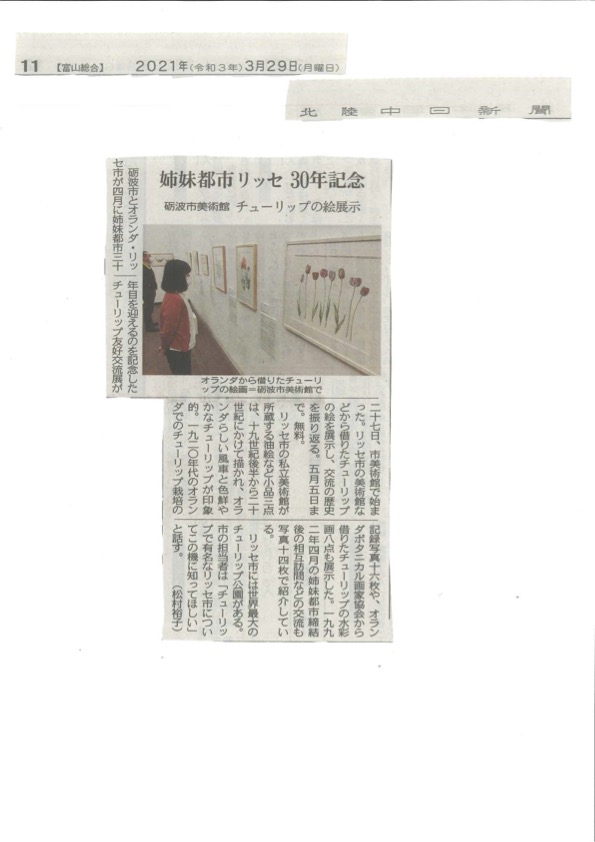 De vertaling van het artikel (in het Engels):
Sister City with Lisse, The 30th Jubilee
Tulip Paintings at Tonami Art Museum
The Tulip Friendship and Exchange Exhibition began at Tonami Art Museum on the 27th. This is a celebration for the Sister City between Tonami City and Lisse which will reach the 30th year in the coming April. It exhibits tulip paintings leased from the museum in Lisse, etc. and commemorates the history of the exchange of the two cities. The exhibition ends on the 5th May. Free Entrance.
Three small oil paintings, owned by a private museum in Lisse and painted during the late 19th to 20th centuries, feature striking Dutch windmills and colourful tulips. The display also includes sixteen photographic records of Dutch tulip cultivation in the 1920's and eight watercolour paintings borrowed from the Dutch Society of Botanical Artists. Another fourteen photos also show the friendship exchanges since the signing of the sister city agreement in April 1992.
Lisse has the largest tulip park of the world. "We wish that this exhibition will offer an opportunity to learn about Lisse, famous for its tulips," says the organizing staff.
(Caption under the photo)
Tulip paintings borrowed from the Netherlands = at Tonami Art Museum
---
De Vereniging van Botanisch Kunstenaars Nederland heeft een promotiefilm gemaakt die te zien is tijdens de Algemene Ledententoonstelling VBKN in Kleef (tot 27 januari 2019).
---
In De Stentor editie Vechtdal heeft op maandag 31 juli 2017 een artikel gestaan over de workshop Kennismaken met botanisch tekenen met kleurpotlood.